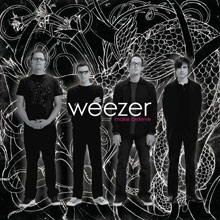 After a 3-year vacation, Weezer has released another album entitled
Make Believe
. Hardly anyone noticed their 2002 album,
Maladroit
, but they weren't missing anything special - "Keep Fishin'" was the only worthwhile track on the album.
There are generally three ways a rock album can be successful and pleasurable to listen to:
Catchy melodies
Well-written emotional lyrics
Well-written humorous lyrics
Generally, only one or two of these are required to make a good album. For example, Green Day produces "catchy" best, with occasional drops of "emotion" and "humor". Bowling For Soup produces "catchy" and "humor" well, but never touches "emotion". Strengths in one or two categories make up for the lacking areas.
Weezer's Blue album managed "catchy" incredibly well, with an occasional supplement from "emotion". In Pinkerton, they sacrificed a bit of "catchy", but strongly boosted "emotion". But the lead singer, Rivers Cuomo, is really screwed up, and decided that he didn't want to show Pinkerton's emotion anymore.
They went on hiatus for five years and wrote some incredibly good songs, but since Rivers has issues, he decided to scrap all of the interim work and write a new album from scratch in a few months. This became the Green album, which featured "Hash Pipe", "Island in the Sun", and a bunch of short, boring pop tracks. They still had "catchy", but it had been severely weakened, while their "emotion" was completely gone. Maladroit in 2002 continued the trend, but removed more of the "catchy" while adding an insignificant touch of "humor".
The new Make Believe is downright awful. There's no "catchy", "emotion", or "humor". I'll run through the tracks: