In Fan Season, I asserted that box fans are the best type of fan to cool a room. But which box fan is right for you?
I needed a box fan last August, and since stores expect you to purchase things in advance, not when you actually need them, hardly anyone carried them anymore. Wal-Mart had already cleared out the fan aisle to make room for space heaters. The only store that still sold them was Kmart, and they only had one model in stock, so I got it: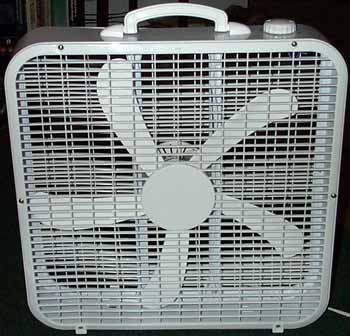 Well, the same fan is back this year in full force, practically falling off of the overstocked Kmart shelves at $10 each. As far as I can tell, nobody actually manufactured this fan. There's no brand name or identifying numbers.
I still have the Kmart fan, but this year, I've been handed down an Air King model 9723 box fan: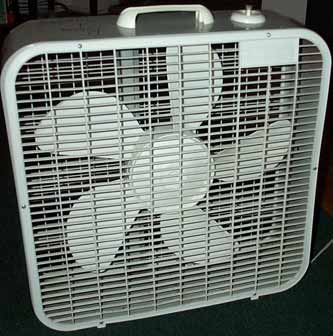 Want one? That's the cheapest I can find them. Sure, $40 is a lot more than $10, but the difference might be worthwhile to you.
How do they compare? I did the only thing a self-respecting geek could do: I benchmarked them!

The fans showed a large performance difference, but you should really watch the video to hear the noise difference and see the test mechanics.
In the first test, I had the fans push a piece of cardboard on wheels across my kitchen floor. The Kmart fan showed more power: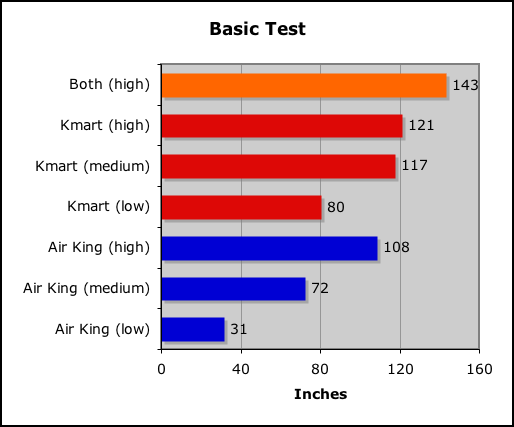 Then I put 5 squishy cows onto a platform on the cardboard wheel device. This showed performance of pushing a slightly heavy load: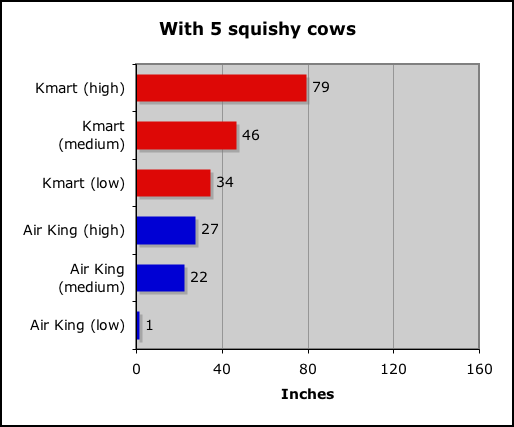 Then I loaded up as many squishy cows as the platform would hold (about 15). This shows performance on a very heavy load. The fans could only significantly push it on high: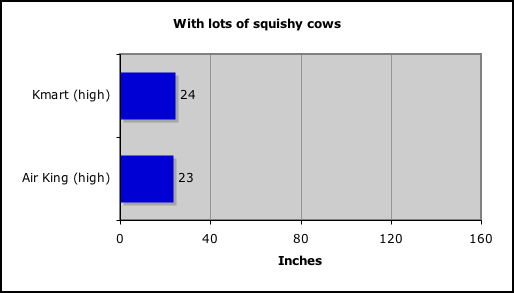 As you can see, the Kmart fan pushes more air than the Air King. So why do I like the Air King so much despite its $40 price?
Noise.
The Kmart fan has three choices: jet engine, large jet engine, or ridiculous jet engine. While it's great for pushing large amounts of air, it's far too loud to use while having a conversation in the room or cooling your bedroom overnight - even on low.
The Air King is almost silent on low, and when it's on high, it's almost as strong as the Kmart fan (and still slightly quieter). It offers a much wider noise range, and on low, it still pushes enough air to cool a bedroom at night.
Plus, the Air King is much better built. This one has moved numerous times between three states, two dorm rooms, two houses, an office, a classroom, and one apartment. It's quite old, but I just clean the dust out of the grilles every few months and it serves me very well. By contrast, the Kmart fan rattles and shakes so much that I think it might explode every time I turn it on high.
Overall, primarily because of noise, I recommend the Air King box fan for all of your box fan needs.