Having a scanner is convenient. After all, how else was I going to get a good picture of my Royal Dansk butter cookies? But I usually just scan paperwork for backup and record-keeping. I might occasionally need to scan a photo.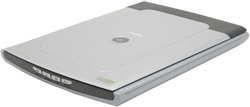 Very few people need a
great
scanner. The high-end models primarily improve the resolution and color depth, but an apartment lease or Verizon bill doesn't need to be scanned at 9600dpi in glorious 48-bit color. Therefore, it didn't make sense to get a model that costs more than $100 to replace my dying Windows-only Visioneer Paperport 5800, for which I paid $19.
I purchased the cheapest Mac-compatible model I could find in a single retail shopping trip, the Canon LiDE 60, for $79. Setup was uneventful, and before long, I was ready to scan my first document. So, I thought, I'll just place my Verizon bill in here and...
Ahh! What's that noise? Is it broken? Well, it's fairly consistent, and it seems to be scanning. I guess it's just loud.
Then I looked at the output. This is the best I could get it after playing with the settings, compared with the same document scanned by my unreliable old $19 Visioneer. I've added the black boxes over my phone and account numbers.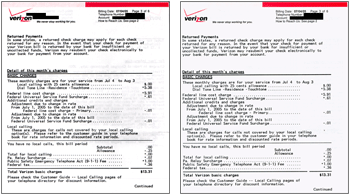 Note that I had to black out my number twice in the LiDE scan, since the other side of the page showed up so clearly.
I was suspicious of the poor performance, so I tested it further. I dragged out a big empty table in Word, printed it out, and scanned it. The scan looked like this on every part. I've zoomed in here for clarification:
The LiDE's cheap LED scanning head produces color bands around horizontal lines. Most other scanners use a more expensive CCD sensor with a fluorescent light, but Canon didn't think it was worthwhile to put this setup into the LiDE series. This is probably the cause of the color banding, and it would probably apply to every LiDE model.
Fine. It can't scan paper or horizontal lines. What can it scan? What about nothing? Here's the result of scanning absolutely nothing. It should be solid white. But it's not, and the second image is with extremely boosted contrast so you can see where the flawed spots are:
I guess I was asking too much from the LiDE 60.
I returned it.