I like cashews. A lot. They're by far my favorite nut (technically, they're seeds, but I don't care). They're healthy, delicious, and versatile.
But store-bought cashews are terrible. They're dry, bland, and covered in salt. This is fine for most people, because most people don't actually like nuts: they like salt, and they eat nuts because they're salt delivery mechanisms. I guess I'm strange, because I actually like the taste of cashews.
You probably don't know what cashews actually taste like. They're really quite good, but you'd never know it by eating the dustballs Planters sells you for $8 per 10-oz. can. I thought I knew, but I didn't.
Until I ordered them from Nuts Online.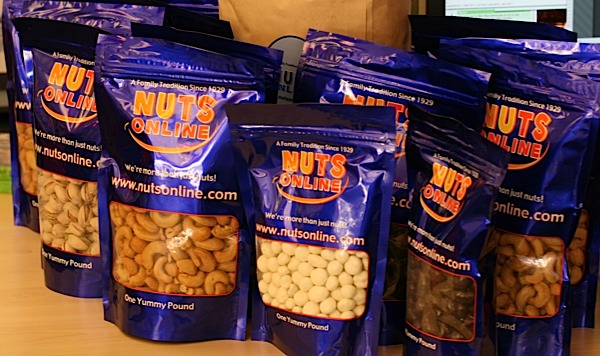 Now I order a lot of things from Nuts Online. (In my defense, I split orders with my entire office.) And they all come in those sturdy blue 1-pound bags with resealable zipper tops. The large paper bag behind them is a 5-pound bag of shelled peanuts (not mine). The blue bags are bold and shiny - I wasn't using a flash for that picture.
On the back of each bag, they curiously say that Nuts Online has been a family business since 1929. No wonder they were able to get such a good domain name. (They would have tried for nuts.com, but it was registered by a domain squatter in 1863.)
Their nuts are second to none. The cashews have a thin layer of natural oil on the outside, which composes most of the real cashew flavor. They've received endless compliments and a lot of new customers from people visiting my desk. Unsalted cashews are $8 per pound, and if you get at least a few bags (to save on shipping per bag), the total cost per pound is competitive with grocery-store nuts. Shipping is very reasonable on large orders, too.
They also sell a bunch of bulk candy and dried fruit, but it's nothing special. I haven't yet tried the coffee, tea, or spices, but I expect similar results. They're serious about their nuts, and I recommend that you stick with them.
Their web store is extremely convenient, well-programmed, and user-friendly.
They tell you on exactly which day your order will arrive.
You can pick from many different shipping options and multiple carriers to ensure that you get it how and when you want it.
You can choose when they ship, so you can delay the order by a few days if you won't be around to receive it or if you don't need it quite yet.
If you're ordering something that might melt, and it's hot outside, they'll warn you about this risk on checkout and offer additional heat-resistant packaging.
All previous shipping addresses are saved for quick recall.
You don't have to ship to your credit card's billing address. (Hear that, Newegg?)
They ship from New Jersey. UPS Ground service gets to my office in Manhattan in 1 day, and it got to my old office in Pittsburgh in 2 days. I get overnight service for the cost of ground shipping. (This may be less valuable to you if you live in Oregon.)
I don't like most online retailers because I've been spoiled by Amazon Prime. I expect the ridiculously good level of service they give me from all retailers, but nobody else ever delivers - except Nuts Online. They've impressed me every time I've ordered.
A few weeks after a large order last Thanksgiving, they sent me a free T-shirt with a letter: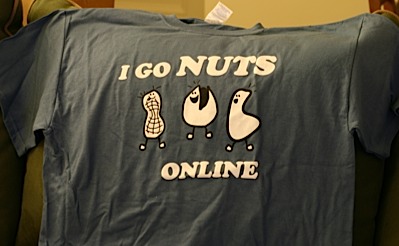 (I like the little surprised pistachio.)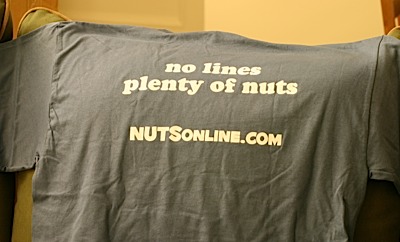 Dear Marco,

Happy Thanksgiving, you crazy nut you.

Can you believe it? You were one of our favorite customers in 2006 and we simply wanted to thank you for your business with a little treat.

Nuts like you keep our family business going strong and we certainly couldn't do it without you. We are grateful.

Thank you so much, and enjoy the t-shirt. We hope you'll wear it with pride. (And if it doesn't fit... share it with a nutty friend or relative!)

Happy Holidays from all of us at NutsOnline.

~Jeffrey, David, Sandy, Kenny and the rest of
The NutsOnline Family
www.nutsonline.com
I'm impressed. Even though the shirt is laughably large and I don't wear T-shirts much anyway, it made my day.
If you like nuts, or if you think you might, give them a try. I'm getting nothing from them for this review, and I'm still raving this much about them. Trust me, it's worth it.
And all online retailers can learn a lot from their excellent storefront and ordering process.